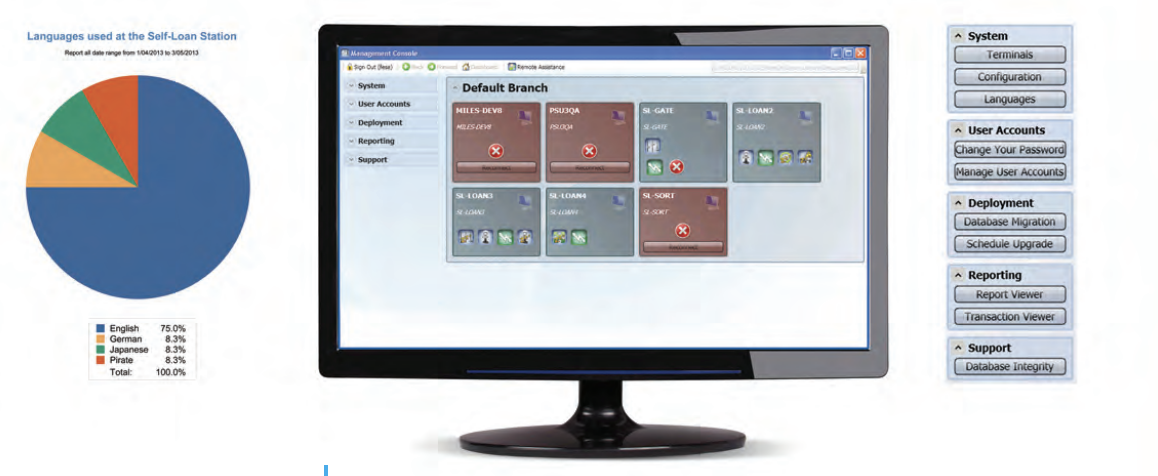 The Management Console is the software used to monitor and configure the RFID equipment. It can be installed on any PC in the network.
The Management Console is designed to allow staff to alter operating parameters themselves without requiring ORASYSID staff to perform the changes. Most functionality does not require a high level of IT knowledge or knowledge of code.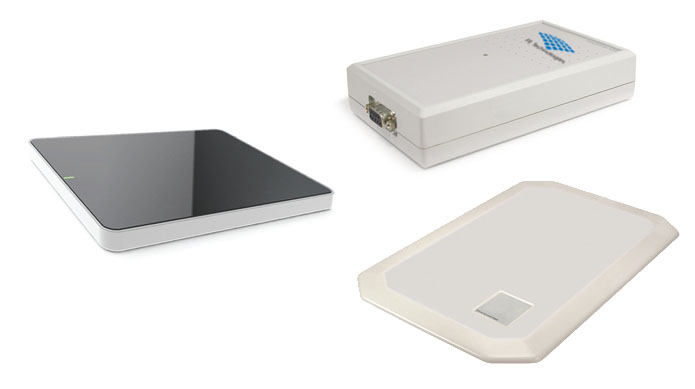 The Circulation Assistant is a library RFID staff work-station that allows librarians to check in and check out multiple items at a time.
The Circulation Assistant converts an existing library terminal into an RFID enabled terminal for circulation functions. The RFID pad is used as a reading device and communicates directly into the LMS.
The Circulation Assistant software overlays a small screen over the ILS* screen and the toggling between issues and returns is automatic.
Automatic Sorter – Sorting Module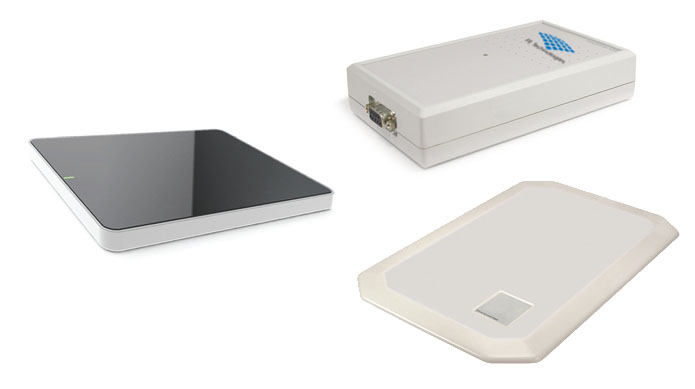 The Sorting Module is a fully automated sorting unit designed to operate unattended. It is capable of transporting items at a rate more than

 

2000 items an hour.
Sensors monitor items as they pass and control the speed and direction of the movement of each item.
A modular design offers the best functionality on the market within virtually any space confinement and has an extremely small footprint.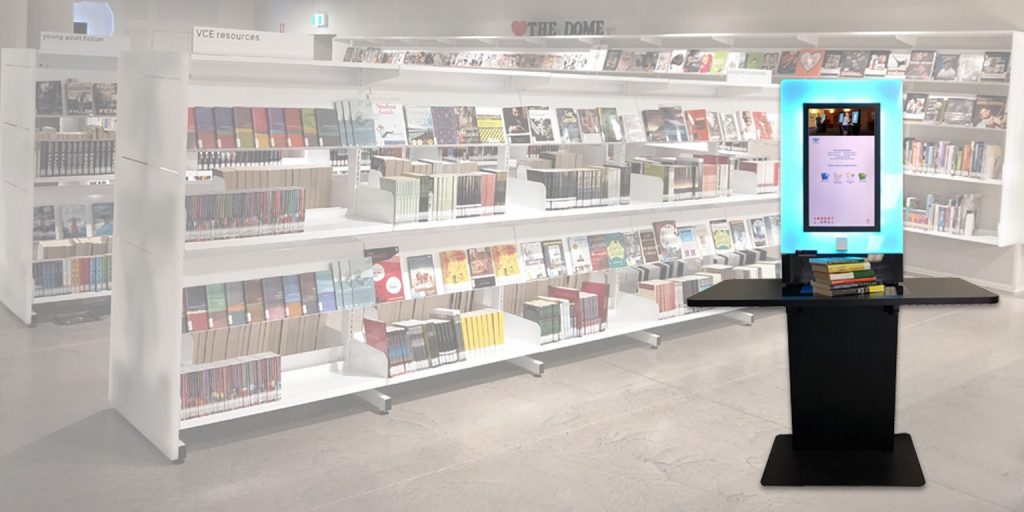 The V5 Self Loan Station is a state-of- the art library self-check designed to look amazing in any library environment.

Portrait-oriented 23" touchscreen

Check out up to 15 items at a time

Blended LED Halo

DVD unlocker and payment options

CCD barcode Scanner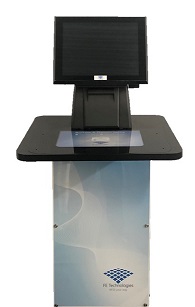 An attractive design, intuitive and easy-to-use interface that simplifies the self check-out and borrowing process. That equals value for their time and your money.
Flexible installation – the unit is easy to install, and can be located on any suitable desktop, bench or table anywhere in the library. The RFID pad has customizable artwork to direct patrons how to use the unit.
Robust, high quality componentry – The Self Loan Station has simple to use user interface on a touchscreen. A shielded RFID reader reads up to 15 items at a time, drastically speeding up the checkout process.
3-step borrowing process – By using the Self Loan Station, the borrowing process is reduced to three simple steps, removing every need for a patron to visit the circulation desk. Even on hold items and the patron's account status can be managed by the patron at the Self Loan Station. All workflows and screen interactions are customisable.
RFID Tags for all Library Items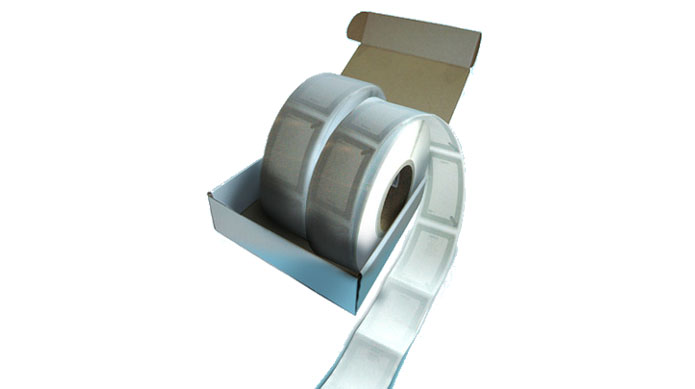 For most of your items our standard tags will provide the best performance for security and readability. These are credit card-sized tags that have excellent readability across all applications and are ideal for use in books, magazines and DVD cases.

Large credit-card sized tags(80×50 mm) providing excellent performance

Racetrack antennas with a strapless joint and use SLIX chips from NXP, and have anti-collision capabilities

Designed to be robust and guaranteed for the life of the item

Conform to ISO 15693 and ISO 18000-3

All tags have enough memory to conform to ISO28560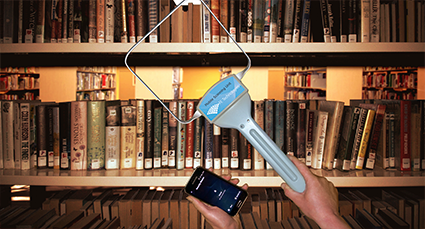 The Mobile Scanning Unit enables the library staff to perform a stock take, to search for items, to identify miss-shelved items and to switch the security status of items to "on", without the need to remove items from the library shelving area or interrupt regular library services.
The Mobile Scanning Unit is the fastest on the Market, capable of reading 18,000 items an hour. It is also a purpose-built Scanning Unit that is designed specifically for libraries.
The Mobile Scanning Unit is designed to be ergonomic – it consists of simply a small handheld antenna which communicates with the mobile phone via Bluetooth.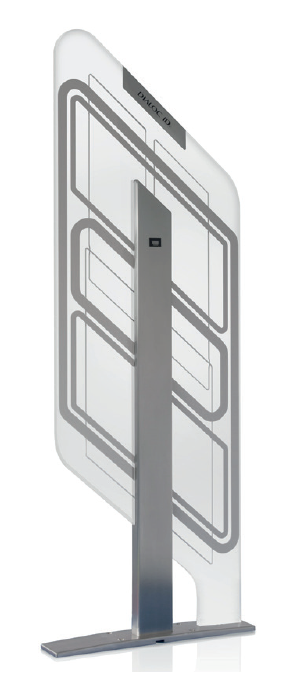 All library collections are valuable, and high risk items such as textbooks, DVD materials and best-sellers must be kept secure. The Security Gates are strong, attractive and perform a highly effective security function.
The security gates are designed to have printed panels inserted into each panel – these can be designed to match your library's décor, include logos, or even advertising for upcoming events.
Excellent read range – the gates have a 3-dimensional read range, meaning tags can be identified in any orientation, providing a very high detection rate, along with the ability to detect multiple items at a time.
Designer Clear Security Gates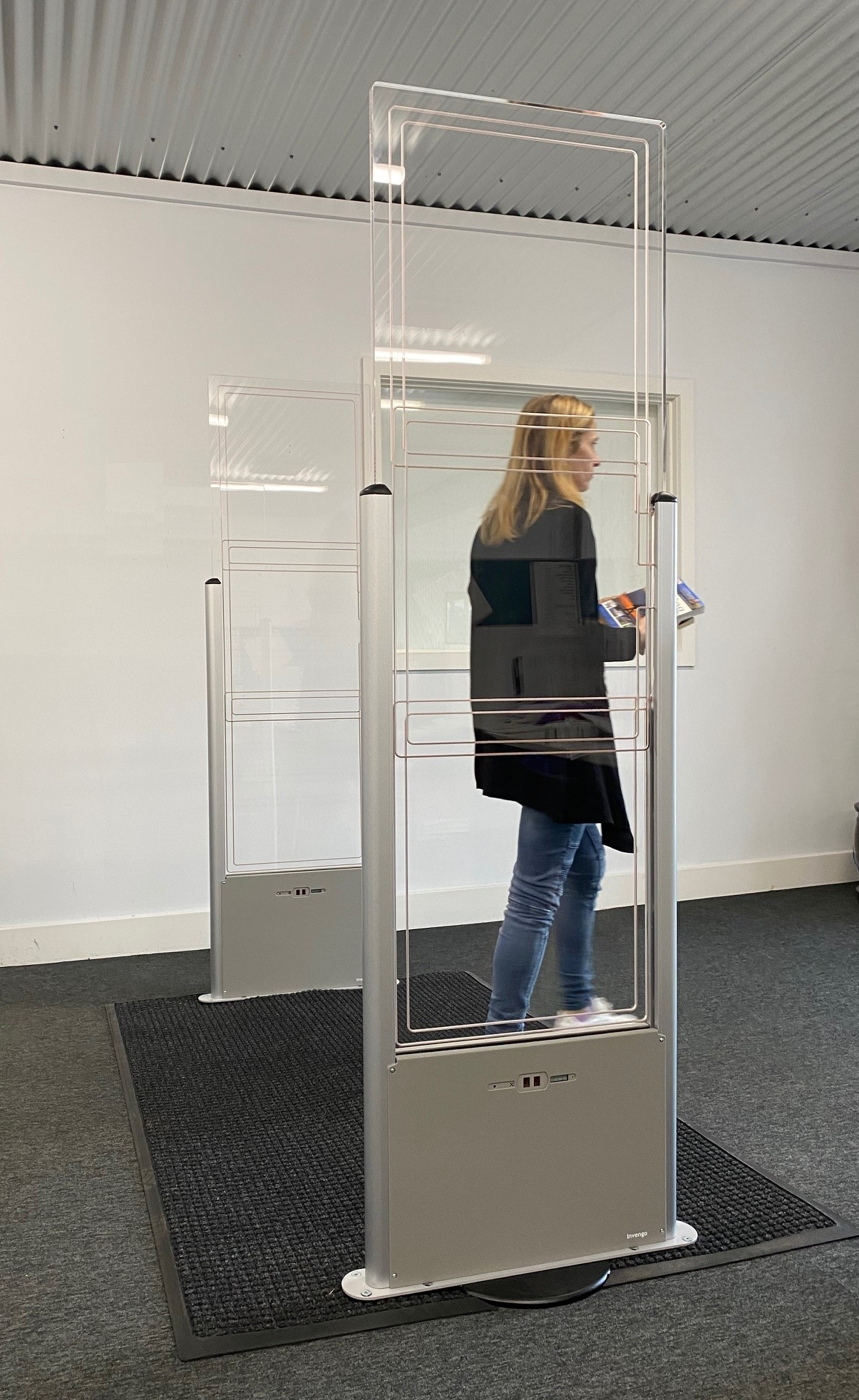 The Designer Clear Security gates are the ideal security solution for libraries who need an aesthetically subtle security system that blends in with existing library architecture and interior design. These gates are made from high clear acrylic, so they are visually low-profile, blending into the background.
3-dimensional read range – highly effective read range and detection rate of all unsecured items no matter how they're held or hidden
LED and audio alarm
Alarm logs showing items that have alarmed the gates
Easy installation options, with no channel required for a single aisle configuration